TMJ Disorder Pain and Headaches
By J. Brent Gorrell on June 03, 2019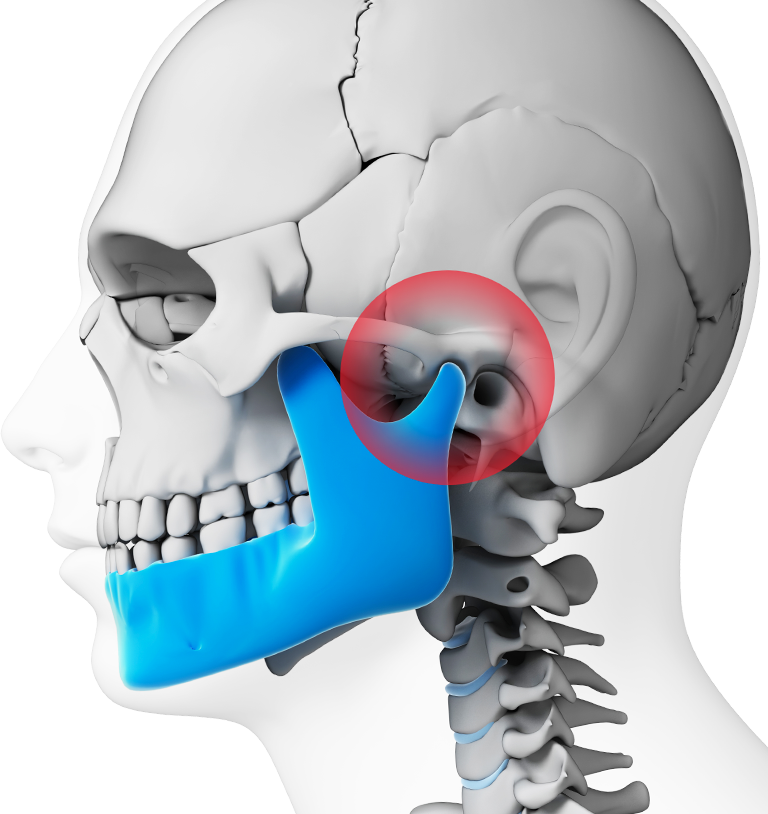 The National Institute of Dental and Craniofacial Research (NIDCR) estimates that between 5 percent and 12 percent of Americans suffer from problems affecting the temporomandibular joint, or TMJ. Known for the telltale clicking, popping, and locking of the jaw, you may have some form of TMJ disorder and not even realize it. Given its prevalence, Dr. J. Brent Gorrell is proud to offer the people of Mountain View, CA state-of-the-art diagnosis and treatment of TMJ disorders (TMD).
Pain and discomfort are common symptoms associated with TMJ disorders. The team at Gorrell Smiles would like to consider the nature of this facial pain and cranial pain and what it says about the nature of TMJ disorders in general.
About TMJ Disorders
A TMJ disorder is a dysfunction of the jaw joint. This is one of the most complicated joints in the entire human body given the different kinds of motions required to speak, bite, chew, and make facial expressions.
When a TMJ disorder happens, different kinds of cranial and facial pain occur. It's one of the symptoms we consider when attempting to diagnose TMJ disorders at our Mountain View practice.
Jaw Pain
Since TMJ disorders affect the jaw, it should come as no surprise that they can lead to jaw pain. This jaw pain may occur when biting and chewing, or it could occur when you yawn or move your mouth in certain ways. It's important to be mindful of the motions that lead to your jaw pain so you can mention them to your dentist.
Headaches
An older study cited by Science Daily found that headaches were associated with 31.5 percent of TMJ disorder test cases. There are a number of reasons why that may be, though two compelling reasons worth exploring here include:
Teeth Grinding (Bruxism) - Many TMJ disorders occur because people grind their teeth at night. The clenching and shifting of the teeth over time can wear down the jaw joint and strain the muscles around the mandible as well. It can also cause tension in the temples, causing headaches.
Radiating Pain from the Jaw - Pain isn't always centralized in one spot. It's possible for pain to radiate out into other parts of the head and face. Headaches may result from this jaw pain over time.
Ear Aches
On the note of radiating pain, since the ear is close to the jaw joint, there's a potential for pain around the jaw to spread to the ear area. Patients may be especially conscious of a grinding sound when they move their jaw because of the proximity of the jaw joint to the ear.
Tooth and Gum Pain
In addition to the above, if teeth grinding is the cause of a TMJ disorder, it will usually lead to pain or soreness of the teeth and gums. Any time your teeth or gums feel sensitive, it's usually a sign that you're experiencing some kind of dental problem.
Treatment and Management of a TMJ Disorder
If you suffer from jaw pain or a combination of jaw pain with any of the other symptoms we've noted above, we encourage you to visit our practice for a consultation. We can evaluate your dental health and determine if you have a TMJ disorder. We'll then develop a treatment plan that helps alleviate and mange the pain you experience while also treating the underlying causes of the problem.
Learn More About TMJ Disorder Treatment
For more information about treating TMJ disorders and improving your overall dental health, be sure to contact an experienced cosmetic and restorative dentist. Gorrell Smiles can be reached in Mountain View at (650) 967-1441.
Related to This
"

I moved out of the area 20 years ago and happily drive 40 miles to still see Dr. Gorrell. Best dentist ever.

" Kevin B.