Traditional vs. Implant-supported Dental Bridge
By J. Brent Gorrell on September 25, 2018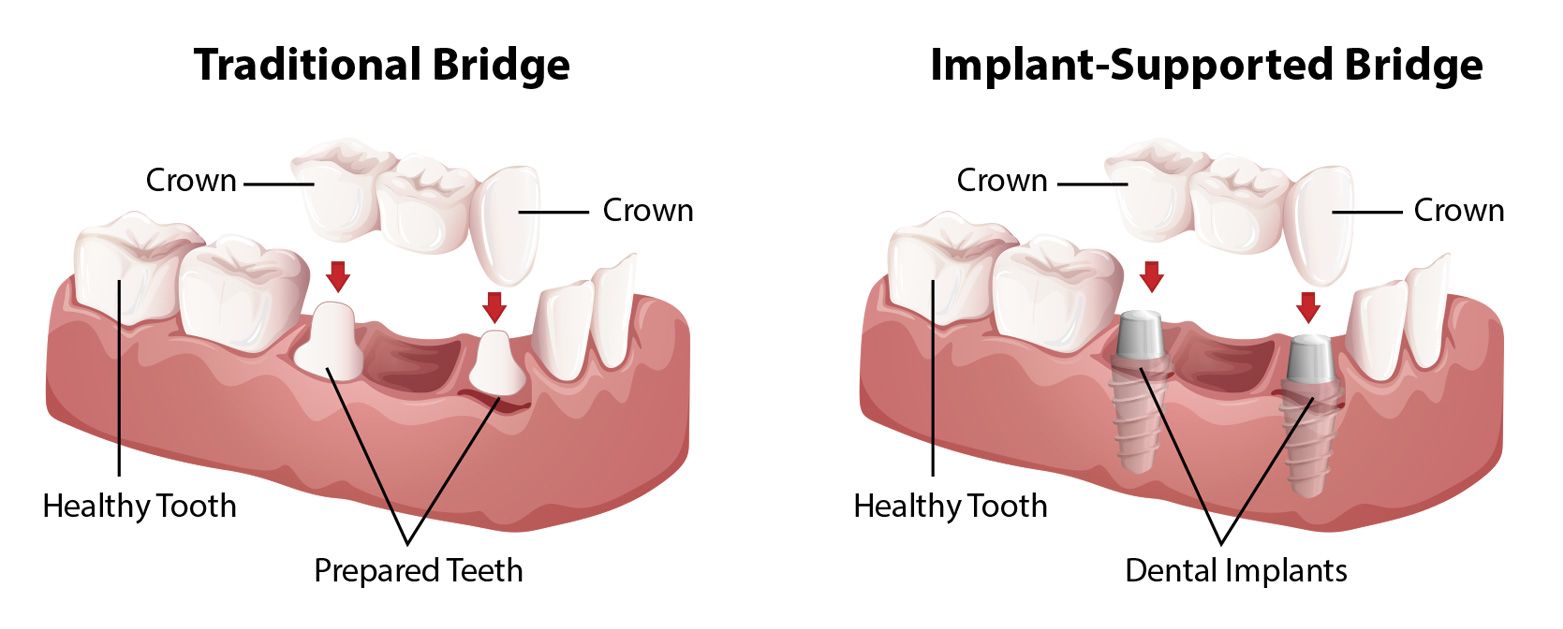 If you are missing one or more teeth in a row, you could benefit from restorative dentistry treatments to improve your oral health at our Mountain View, CA practice. One of the most common teeth replacement solutions is a dental bridge.
Here, Drs. J. Brent Gorrell and Summer Xue Xia explore traditional vs. implant-supported dental bridges and explain the pros and cons of each.
About Traditional Dental Bridges
Designed to "bridge" gaps or spaces in your smile, dental bridges consist of two dental crowns on either side with artificial teeth (pontics) in between them. Bridges can be crafted from a number of high-quality materials, including zirconia, ceramic, metal, or porcelain-fused-to-metal. However, many patients choose a tooth-colored material to blend in with their smile.
To place a traditional bridge, the adjacent teeth are slightly reduced. By doing so, these teeth can serve as supports, or abutments, for your new restoration.
Generally, traditional bridges can be placed in just two office visits. During the first appointment, the teeth are prepared and impressions are taken. During the second visit, the final restoration is bonded into place.
Conventional bridges restore aesthetics, function, and health to your smile. With proper care, these restorations can last upwards of 20 years.
Advantages of Traditional Dental Bridges
Traditional bridges can be placed quickly. Typically, it takes only two to three weeks from the initial consultation to the placement of the final restoration. Additionally, conventional bridges are an excellent choice for patients that do not qualify for oral surgery.
Disadvantages of Traditional Dental Bridges
The most significant disadvantage of traditional bridges is that natural tooth structure must be compromised in order to place them. Whenever enamel is removed, the teeth may become weaker and more susceptible to damage over time. Conventional bridges will also need to be replaced at some point. It is important that patients understand these aspects of treatment before pursuing a traditional dental bridge.
About Implant-supported Bridges
Implant-supported dental bridges are nearly identical to traditional bridges by design. However, they are supported by dental implants rather than natural adjacent teeth.
Dental implants are small posts placed into the jawbone during a surgical procedure, intended to restore missing teeth roots. Once the implants have integrated with the bone tissue, a custom-made bridge can be attached to the implant posts.
Advantages of Implant-supported Bridges
Implant-based bridges are excellent options for replacing missing teeth. Because the restoration rests on the implant posts, reduction of the neighboring teeth is not necessary. Therefore, implant-supported bridges can preserve your oral health and reduce the risk of damage in the future.
Currently, dental implants are the most successful, longest-lasting tooth replacement option available. In fact, implant-supported restorations can last a lifetime with proper care and maintenance.
Disadvantages of Implant-supported Bridges
Replacing teeth with implant-supported restorations typically takes longer than the conventional alternatives. Once the implants are placed into the jaw, a few months of healing are required. During this time, the implants fuse to the bone tissue in a process known as osseointegration. Therefore, while a traditional bridge can be placed in about two to three weeks, an implant-supported bridge may take three to six months.
Contact Gorrell Smiles Today
To learn more about teeth replacement solutions, schedule a visit at our practice. Call our office at (650) 967-1441 or contact us online.
Related to This
"

I moved out of the area 20 years ago and happily drive 40 miles to still see Dr. Gorrell. Best dentist ever.

" Kevin B.