The Three Stages of Gum Disease
By J. Brent Gorrell on May 02, 2018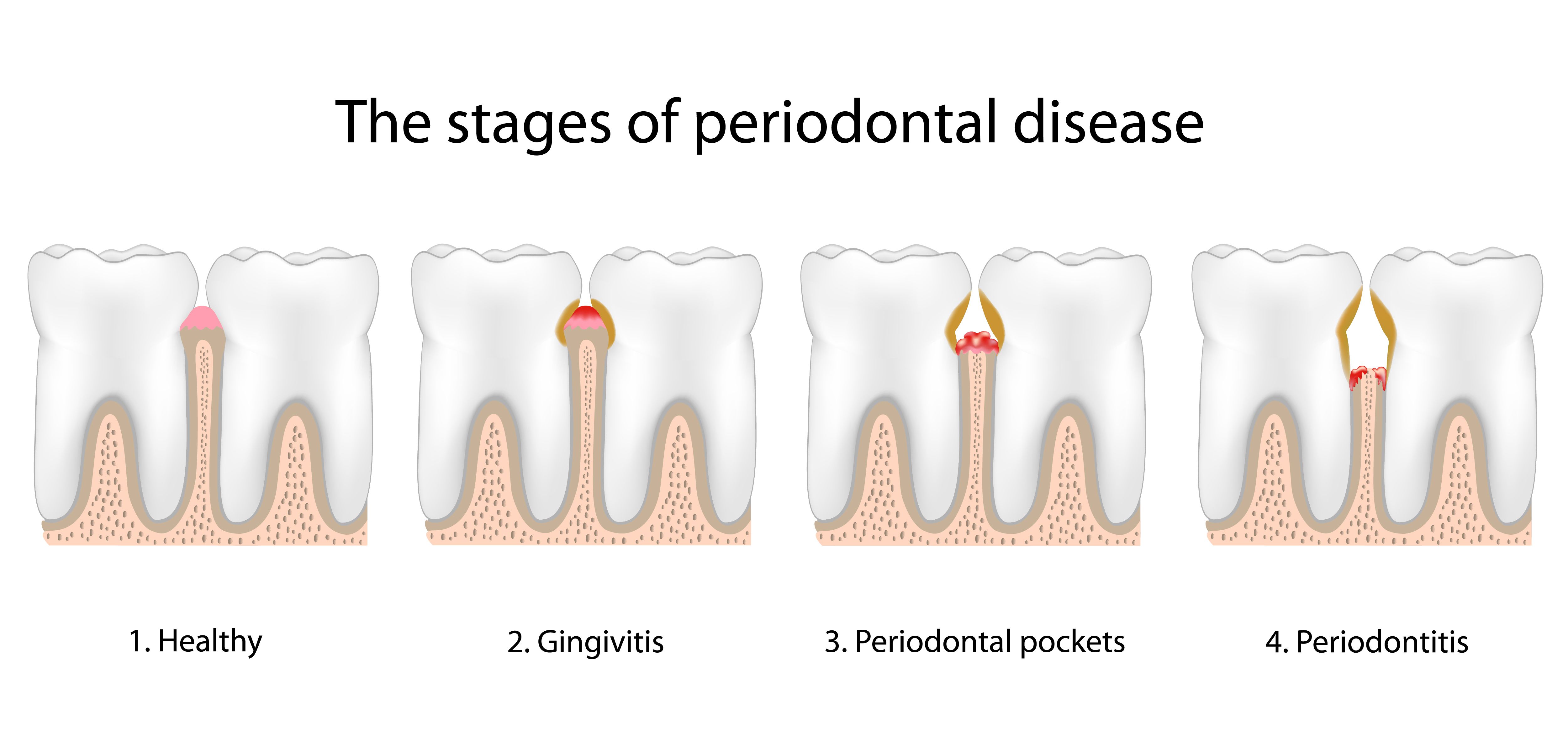 Gum disease affects about 65 million Americans over the age of 30. That averages out to about one out of every two people you encounter. This bacterial infection can negatively affect the soft and hard tissues within the mouth.
If left unchecked, gum disease can spread quickly, resulting in tooth loss and bone degeneration. Research has also linked this oral health condition to heart disease, high blood pressure, and diabetes due to its ability to enter the bloodstream from the mouth.
Because the side effects are often undetectable in their earliest stages, gum disease is known as a silent infection. Knowing the three stages of gum disease and how to prevent them can help protect your smile and overall health.
If your oral health has already been jeopardized by gum disease, Dr. J. Brent Gorrell offers a variety of restorative dentistry treatments at his Mountain View, CA practice.
Gingivitis
Due to a buildup of plaque and bacteria on the gum line, people with gingivitis often experience red and swollen gums that bleed during brushing and flossing. Other side effects may include bad breath and gum sensitivity.
Although harder to identify, if gingivitis is detected, the side effects are manageable and generally reversible at this stage. When gingivitis is diagnosed, a professional cleaning and an approved mouthwash are usually recommended to remove plaque build up and treat infection.
Periodontitis
Unaddressed gingivitis will eventually cause the plaque build up to accumulate beneath the gum line. When plaque remains, it causes the tissues around the base of the tooth to loosen, creating periodontal pockets.
When this happens, the infection can penetrate the gum line and compromise your teeth and jawbone. The wider and deeper the pockets are, the greater your risk for serious infection.
Side effects of periodontitis often include:
Frequent bad breath
Gum inflammation and bleeding
Gum recession
Dental sensitivity
Bone loss
Loose or shifting teeth
At this stage, a deeper cleaning that involves scaling and root planing is typically recommended to remove the unhealthy bacteria and plaque build up beneath the gum line and along the base of the tooth. This allows the gums to reattach to the teeth, decreasing the size and depth of the pockets and preventing infection from spreading.
Using an antibiotic mouthwash can also remove any remaining infection. Your dentist may advise follow-up treatments every four months to stay ahead of the infection.
Advanced Periodontitis
Once gum disease reaches this stage, the damage is usually severe and side effects are vividly apparent. Some of the more common symptoms include:
Severe tooth decay
Tooth and jaw pain
Tooth abscesses (pustules)
Shifting teeth
Tooth loss
Gum inflammation and pain
Difficulty biting down or chewing
If you are diagnosed with advanced periodontitis, depending on the severity of side effects, you may require gum surgery, bone grafting, or tooth extractions to correct damage. When tooth loss is inevitable, Dr. Gorrell offers a variety of missing teeth treatments, including customized dental bridges and dental implants to restore your smile.
Contact Us
If you are concerned you may have gum disease, it is imperative that you schedule a consultation with Dr. Gorrell immediately. Timely treatment can help save your teeth and protect your overall health. Please contact us today to book your appointment.
Related to This
"

I moved out of the area 20 years ago and happily drive 40 miles to still see Dr. Gorrell. Best dentist ever.

" Kevin B.