We Care: Dental Care for Seniors
By J. Brent Gorrell on February 04, 2015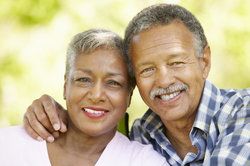 At the general dentistry practice of Dr. J. Brent Gorrell, we proudly provide superior dental care to patients with special needs, including senior patients. Many people do not realize how difficult oral health care can be for certain members of our senior population; we take for granted the ability to brush, floss, and stay properly hydrated. For some seniors, however, these seemingly simple tasks can be challenging, if not impossible.
This is why we strive to create an environment in which our senior patients feel respected and truly cared for. We want these patients to view their trips to the dentist as a warm and welcoming experience so that they do not hesitate to get the dental care they need. At our general dentistry practice in Mountain View, dental care for seniors is provided with compassion, kindness, and an unerringly gentle touch. Our skilled, experienced professionals are highly trained to cater to the needs of seniors while providing them with the treatment they need to optimize their oral health and maintain the highest level of function in their mouths.
If you have an elderly loved one who requires special care, we invite you to schedule a consultation with Dr. Gorrell on his or her behalf. We are confident that you will consider our team and our practice to be an excellent fit for your loved one.
We Understand the Needs of Senior Patients
Our team is specially trained to understand the unique needs of elderly dental patients. We know that seniors are adults and deserve to be treated as such; while they may require a sensitive, gentle touch, they should never be condescended to or treated as though they were children. There is a fine line between being respectful and being patronizing, and our team is able to walk that line expertly.
We realize that we must walk this line because many seniors have to visit the dentist more often than the average adult. While the American Dental Association recommends that most adults visit the dentist twice a year for professional cleanings and oral exams, many seniors rely on their dental visits as their primary methods of keeping their mouths clean and free from disease. This is because at-home oral hygiene does not come easily to these seniors. Brushing, flossing, rinsing their mouths, and staying hydrated are difficult and possibly even impossible tasks, especially for seniors who have limited mobility and who live on their own. Even seniors who reside in assisted living facilities or who live with their families may not be getting the oral health care they need between visits.
As a result, seniors compound their already heightened risk of virtually every type of oral health problem, from tooth discoloration and gum disease to root canal infection and oral cancer. At our dental practice, we provide a comprehensive range of treatments designed to prevent and treat these conditions, as well as restore health, beauty, and function to the mouth after these conditions have been treated.
Learn More about Dental Care for Seniors
To learn more about dental care for seniors, please contact the dental practice of Dr. J. Brent Gorrell today.
Related to This
"

I moved out of the area 20 years ago and happily drive 40 miles to still see Dr. Gorrell. Best dentist ever.

" Kevin B.