Smoking and its Effect on Oral Health
By J. Brent Gorrell on November 15, 2014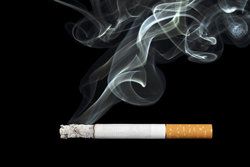 Dr. J. Brent Gorrell of Mountain View knows that the cornerstone of great dental care is noting general health and wellness. That's why we offer the latest in preventative and general dentistry services to go along with our state-of-the-art cosmetic and restorative services.
One issue that pops up a fair amount when it comes to dental health and overall wellness involves smoking and its effect on dental health. Let's take a moment right now to consider these matters so you understand what is at stake if you are a smoker.
Use of Tobacco Products Is Linked to Oral Cancer
Studies have shown that smoking or using smokeless tobacco is linked to three-quarters of all cases of oral cancer. This is not an insignificant amount at all. Indeed, not only does smoking increase your risk of lung cancer and other kinds of respiratory disease, it dramatically increases the likelihood of you suffering from some form of cancer that affects the structures of your mouth.
Tobacco Products Can Increase Chances of Developing Gum Disease
When you smoke or use chewing tobacco, the chances of developing gum disease and suffering from gum recession increase. The tobacco will affect the cells of the gums, and people who use tobacco products tend to be more prone to infection, which explains why the soft tissues of the mouth are so adversely affected.
Tooth Discoloration Is Likely After Years of Smoking
If you smoke or use chewing tobacco for years, this can lead to major issues with tooth discoloration and staining. The yellowing or even browning of your teeth can be especially pronounced if you have been smoking or using chewing tobacco for many years.
Bad Breath Is Likely If You Are a Smoker
Smoking certainly doesn't do any favors to your breath. That telltale smell of cigarettes and cigars can leave your breath smelling particularly bad. It may also be the sign of gum disease, so keep in mind that the bad breath may be linked to a health issue.
Get Help If You Want to Kick the Habit
Given the above problems, it's important that you avoid using tobacco products or, if you are currently a smoker or use smokeless tobacco, that you look into ways to quit. If you have difficulty quitting smoking, you can seek help from your general practitioner, whose advice can prove invaluable.
Treating Aesthetic Problems Related to Tobacco Products
If you suffer from tooth discoloration as a result of cigarettes, cigars, and chewing tobacco, teeth whitening treatment may prove helpful in removing those unsightly stains. For stains that are more deep set, the use of porcelain veneers or other options may be considered.
Treating Dental Health Problems Related to Tobacco Products
For cases of gum disease related to smoking and chewing tobacco, the best option for care tends to involve the use of antibiotics and antiseptic rinses to combat the infection of the gums. Grafting can then be used to restore any recession of the gum tissue you've experienced. Other restorative procedures can be performed in case of serious damage or decay to the teeth that resulted from the use of tobacco products.
Schedule a Visit to Our Dental Care Center
If you would like more information about your many difference options for advanced dental care, be sure to contact our cosmetic and restorative dentistry center today. We will help address the damage done by smoking and tobacco products and will also provide information that can help you kick your habit.
Related to This
"

I moved out of the area 20 years ago and happily drive 40 miles to still see Dr. Gorrell. Best dentist ever.

" Kevin B.