The LaserSmile® Teeth Whitening Technique
By J. Brent Gorrell on May 15, 2014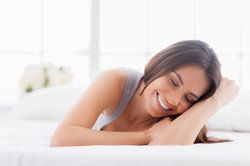 What would you do for a brighter, cleaner smile? Some people may turn to whitening toothpaste, mouthwash, or over-the-counter products that claim to work. However, all of these methods require repeated use for marginal improvement, if any at all, and often result in more frustration and wasted money than true results. On the other hand, a professional whitening procedure at our Mountain View office can produce significant and long-lasting results within a single visit.
With our LaserSmile® whitening technique, you can remove stains from teeth in a way that is quick, easy, and effective. Before devoting any more time to the questionable claims of store-bought products, consider how professional teeth whitening can make a real difference in your smile.
What Is LaserSmile®?
LaserSmile® is a professional-grade teeth whitening procedure, which is able to reduce discoloration faster and more effectively than many alternative products. The treatment utilizes a two-step process, where whitening gel is first applied to teeth before being "activated" by a special laser. This activation encourages the gel's main ingredient to more readily interact with the underlying enamel, bleaching it for a brighter appearance.
Like many whitening products, the gel contains hydrogen peroxide, which simultaneously lightens the color of enamel and removes surface stains from it. Unlike other products, however, LaserSmile® contains a 38 percent concentration of hydrogen peroxide, making it stronger than over-the-counter brands and even some professional ones. LaserSmile® also utilizes an actual diode laser for gel activation, whereas other procedures may only use a light source.
Is Treatment Safe?
Teeth whitening is one of the safest dental procedures, with very few and short-lived side effects. After treatment, patients often have heightened sensitivity in their teeth, especially when coming in contact with hot or cold temperatures, but this does not typically last for more than a day or two. Aside from any temporary sensitivity or gum irritation, the use of hydrogen peroxide as a bleaching agent is a relatively risk free procedure. As long as patients do not receive whitening treatment too often, their enamel should remain strong and healthy.
How Long Does Whitening Last?
As long as patients continue to brush and floss responsibly and maintain good dietary habits, the visible effects of LaserSmile® whitening should last for years. On average, most patients begin to see some degree of discoloration return within five years, but this is not a failing of the procedure itself. Rather, teeth will always continue to accrue stains; teeth whitening is simply a good way to remove those stains that have already accumulated.
What Does the Procedure Entail?
The LaserSmile® whitening procedure can be completed in 40 minutes or less, including time for preparation. Treatment can be broken down into the following steps:
Teeth will be isolated with a dental dam, cheek retractors, cotton rolls, or a combination thereof. By keeping the gums, lips, and cheeks away from teeth, the cosmetic dentist can minimize unwanted contact with the gel.
The gel will be evenly applied over the front surfaces of teeth.
The laser will be focused over the gel for 15 second intervals per tooth. After 15 minutes, each tooth will have had two to four minutes of exposure.
The gel will be removed and the patient will rinse.
The gel and laser process will be repeated a second time, lasting an additional 15 minutes.
By the end of treatment, patients should notice an immediate improvement in their smiles. For additional whitening or a touch-up, patients may be given a home whitening kit or special toothpaste to be used afterward.
Achieve the Smile You Deserve
Discoloration and blemishes can be a serious distraction in your smile, but they don't have to be. Our range of cosmetic services are proudly offered to the right candidates, along with our general and restorative dentistry techniques. For more information on any of our treatment options, contact us today.
Related to This
"

I moved out of the area 20 years ago and happily drive 40 miles to still see Dr. Gorrell. Best dentist ever.

" Kevin B.