Invisalign® for Teens a Clear Choice Over Braces
By J. Brent Gorrell on March 12, 2014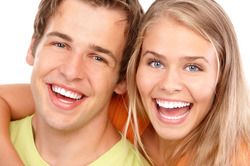 Braces are so commonplace for teenagers that you would think they are a rite of passage. But happily for many teens, the metal brackets and wires of traditional braces are no longer the only option.
Many teens today can take advantage of Invisalign®or Invisalign®Teen to correct misalignments. Both Invisalign® methods use comfortable, removable, and nearly invisible clear aligner trays that slide onto teeth and gently nudge them into place. About every two weeks, a new aligner tray is inserted that continues the process of moving teeth into alignment.
Cosmetic dentist J. Brent Gorrell in Mountain View offers Invisalign®to teens, letting them avoid braces while treating a range of alignment problems, from simple crooked teeth to more difficult issues, including:
Crowded or gapped teeth
Overbite
Crossbite
Underbite
Invisalign®
Teens whose adult teeth have erupted can use the same Invisalign®treatment as adults. Teens still waiting for their adult teeth can be treated with Invisalign®Teen, which is designed with unique features for incoming teeth. Dr. Gorrell can advise you on which is the best treatment for your teen.
But there's more to the story.
Invisalign® Teens
It goes without saying, teens are not adults. That's why Invisalign®Teen was created. It not only nudges teeth in the right direction, it also works at keeping your teens on track too. Here's how:
Blue Wear Indicators
The great thing about Invisalign®aligners is that they can be removed for eating, cleaning your teeth, and special occasions. If your teen is in band, the aligners can be removed when it's time to play a musical instrument.
But that same advantage has a downside. If aligners are going to work, they need to be worn 22 hours a day. With braces, there's no question that your teen has them on. But with aligners, how do you know if your teen is actually wearing them?
If they are using Invisalign®Teen, you'll know. Blue wear indicators built into each aligner will fade from blue to clear letting you, your dentist, and your teen know if the aligners are being worn.
Additional Aligners
There's another trait that Invisalign®Teen makes allowances for: Losing things. With Invisalign®Teen, you get six free replacement aligners just in case any are lost or misplaced.
Room for New Teeth
Teens can still have adult teeth coming in, which would create problems for most aligners. Teen aligners solve the problem by using "eruption tabs" that leave room for incoming adult teeth.
More Benefits
Both adult and teen Invisalign®treatments have these features in common:
Comfortable and Virtually Invisible. Aligners are made of smooth, clear, BPA-free plastic, making them nearly invisible.
Eat What You Want. Because you remove the aligners when you eat, you can eat the foods you like without restrictions. Braces, which trap food and are hard to clean, come with a list of foods to avoid.
Easier Teeth Cleaning. With aligners, all you do is brush your teeth after you eat. Braces, on the other hand, require meticulous cleaning to remove food caught in the metal framework.
More Information
Find out all there is to know about Invisalign®and Invisalign®Teen with a personal consultation. Please call to make an appointment.
Related to This
"

I moved out of the area 20 years ago and happily drive 40 miles to still see Dr. Gorrell. Best dentist ever.

" Kevin B.